Blog: "It's not just about exercise"
Activity Alliance enables organisations to support disabled people to be active and stay active for life. So, this year we'll be sharing great stories from both sides – how organisations are working to make active lives possible, and the direct impact their work is having on individual disabled people.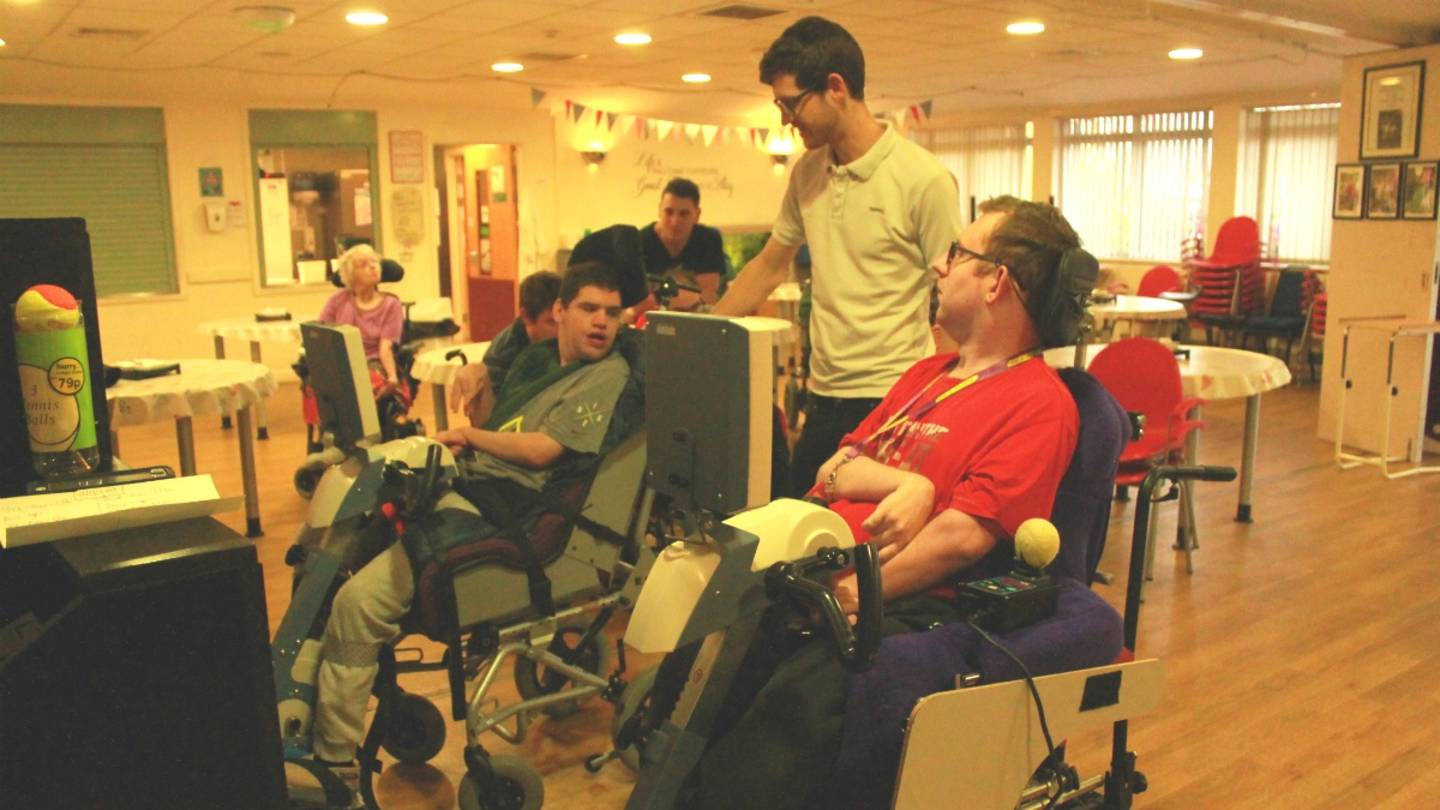 Piers Baker is a physiotherapist at Gloucestershire House in Cheltenham, a residential home that provides a range of services for disabled adults.
Gloucestershire House, run by UK charity Leonard Cheshire, offers residents a wide range of daily activities and encourages plenty of physical activity. This includes daily gym and group exercise sessions, inclusive cycling trips and the use of an aquatic therapy pool.
However, Piers felt that residents could also be benefiting from taking part in more self-directed exercises and activity - if presented with an appealing enough opportunity and a fun incentive.
So, the therapy team decided to set up a cycling competition between the residents from six different sections of the home. For this, they simply moved some of their static therapy bikes out of the gym and into a shared leisure space.
"We challenged them to cycle as far as they could in a month," said Piers.
"As the bikes moved from the secluded gym to a strategic spot in front of the TV, so too did the residents, and they began to appear from their rooms to take part in the challenge.
"Residents cycled as much as they could in whatever way they could. Some used the passive leg function for 15 minutes, while others actively hammered away at the hand cycle for 30 minutes. Every meter and second counted towards their lodge total."
After a month Piers started to see a positive social change, and says the results have been incredible in a number of ways.
"Collectively the residents achieved a whopping 533km total across 43 hours of cycling. One participant, Adam, managed to rack up a total of 200km, which he achieved during a series of intense 30-minute sessions.
"Another client, Helen, amazed everyone with her efforts, after she put in 13 hours and 121kms over 53 sessions.
"Fellow competitor, Charlotte, enjoyed a more manageable 1-2km per session. Her consistency helped her amass 35km, putting her in joint second place in the number of sessions ranking, which totalled 17.
"We also had Kayley, who cycled 50km in three hours and seven sessions and was so enthusiastic she inspired her teammates to come out in full force, with many of them saying they hadn't done this in years."
Promoting a culture of fun and activity, the cycling challenge really enthused the residents but also inspired staff too.
"What this event showed is that it isn't just about exercise. It's about the power of positive social change within a community, and the other subtle components that create a culture of movement and exercise.
"The strategic positioning of the bikes in front of the TV improved engagement, and it really enthused the residents. The results have been amazing.
"The competition also helped to shake up the residents' normal routine. I believe other therapists, in school and residential settings, could create opportunities for their clients to benefit in a similar way, by locating a physical competition within a fun setting.
"The best part of our project was that most of it took place outside of therapy hours and used self-reporting log books. Other than number crunching at the end, I have had very little input compared to the 44 hours of direct therapy we provide.
"Recording all of the residents' activity provided an interesting evaluation of the results. Monitoring and evaluation acted as a useful tool to share successes with our clients, but most importantly, identified areas for improvement.
"For instance, I found that many of the residents who required more support had less access compared to those that could easily get themselves going. So, we are looking at ways to make future events more inclusive.
"The main thing we have learnt is that a little healthy competition goes a long way."
CSPs insight shows a real need to improve the activity levels of disabled people and people with long-term health conditions. Their 'Love Activity, Hate Exercise?' campaign is designed to raise awareness and capitalise on the expertise of physiotherapists and physiotherapy support workers to encourage people with long-term health conditions to be more active. Find out more about the CSP's Love activity, Hate exercise? campaign.
If you're an individual wanting to be more active but not sure where to start, then visit our 'How to Start' page on our website.